L/S index:

98H

Diameter (mm):

683.0

Profieldiepte (mm):

9.9

F

E

2

71 dB

L/S index:

100T

Diameter (mm):

697.0

Profieldiepte (mm):

10.0

F

E

2

71 dB

L/S index:

104S

Diameter (mm):

733.0

Profieldiepte (mm):

11.4

F

E

2

72 dB

L/S index:

109S

Diameter (mm):

775.0

Profieldiepte (mm):

12.7

F

E

2

72 dB

L/S index:

100H

Diameter (mm):

708.0

Profieldiepte (mm):

9.9

F

E

2

71 dB

L/S index:

107H

Diameter (mm):

722.0

Profieldiepte (mm):

10.0

F

E

2

72 dB

L/S index:

120R

Diameter (mm):

806.0

Profieldiepte (mm):

12.4

F

E

2

72 dB

L/S index:

106H

Diameter (mm):

736.0

Profieldiepte (mm):

10.1

F

E

2

71 dB

L/S index:

100H

Diameter (mm):

688.0

Profieldiepte (mm):

9.9

F

E

2

71 dB

L/S index:

120R

Diameter (mm):

774.0

Profieldiepte (mm):

12.4

F

E

2

72 dB

L/S index:

107S

Diameter (mm):

750.0

Profieldiepte (mm):

10.2

F

E

2

71 dB

L/S index:

109H

Diameter (mm):

738.0

Profieldiepte (mm):

10.1

F

E

2

72 dB

L/S index:

112H

Diameter (mm):

778.0

Profieldiepte (mm):

10.4

F

E

2

72 dB

L/S index:

114H

Diameter (mm):

792.0

Profieldiepte (mm):

10.5

F

E

2

72 dB

L/S index:

120R

Diameter (mm):

808.0

Profieldiepte (mm):

12.4

F

E

2

72 dB

L/S index:

119R

Diameter (mm):

776.0

Profieldiepte (mm):

12.5

F

E

2

72 dB

L/S index:

105S

Diameter (mm):

750.0

Profieldiepte (mm):

10.0

F

E

2

71 dB

L/S index:

110V

Diameter (mm):

738.0

Profieldiepte (mm):

9.7

F

E

2

73 dB

L/S index:

113S

Diameter (mm):

804.0

Profieldiepte (mm):

10.4

F

E

2

72 dB

L/S index:

112T

Diameter (mm):

776.0

Profieldiepte (mm):

10.2

F

E

2

72 dB

L/S index:

115T

Diameter (mm):

790.0

Profieldiepte (mm):

10.3

F

E

2

72 dB

L/S index:

106T

Diameter (mm):

763.0

Profieldiepte (mm):

9.9

F

E

2

71 dB

L/S index:

100V

Diameter (mm):

715.0

Profieldiepte (mm):

9.5

F

E

2

71 dB

L/S index:

117S RD

Diameter (mm):

815.0

Profieldiepte (mm):

10.3

F

E

2

73 dB

L/S index:

109V RD

Diameter (mm):

737.0

Profieldiepte (mm):

9.7

F

E

2

73 dB

L/S index:

116S

Diameter (mm):

829.0

Profieldiepte (mm):

10.4

F

E

2

72 dB

L/S index:

110H

Diameter (mm):

775.0

Profieldiepte (mm):

10.2

F

E

2

72 dB

L/S index:

103V

Diameter (mm):

739.0

Profieldiepte (mm):

9.7

F

E

2

72 dB

L/S index:

107V

Diameter (mm):

739.0

Profieldiepte (mm):

9.7

F

E

2

74 dB

L/S index:

121R

Diameter (mm):

845.0

Profieldiepte (mm):

12.7

F

E

2

72 dB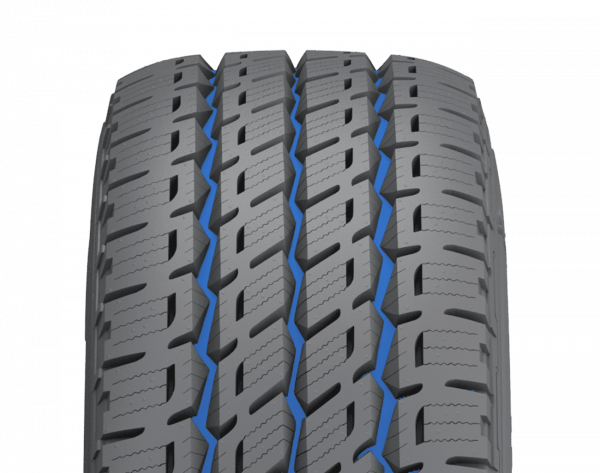 Longitudinal Grooves
Wide longitudinal grooves efficiently disperse water from the contact area, and the wave-shaped sipes provides good traction in the wet, while maintaining an optimum rigidity of the blocks.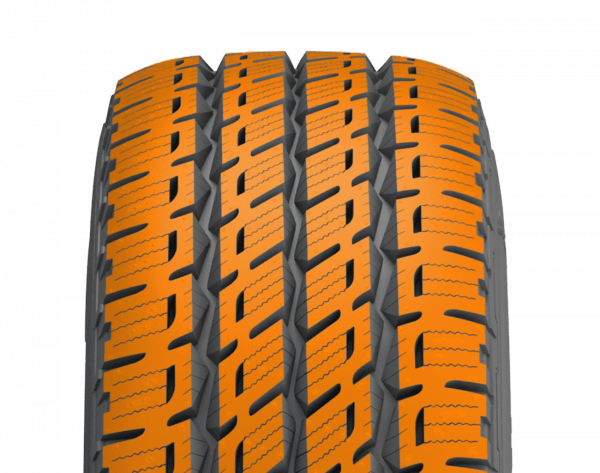 Connected Blocks
Tread blocks are interconnected to provide stability of the tire on the velocity and reduces the mobility of the blocks and their premature abrasion.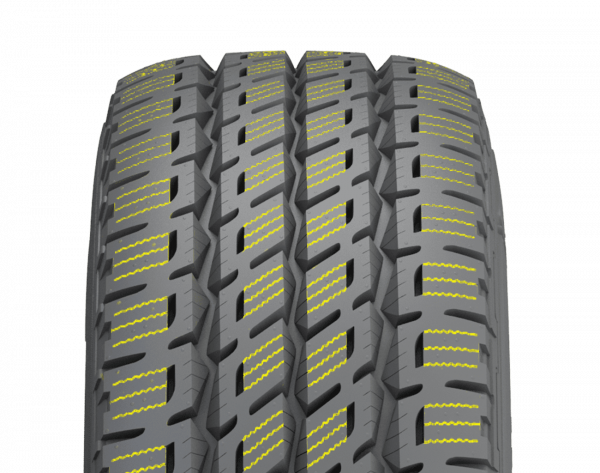 Tread Pattern
Depending on the size of the tread has a five ribs (in sizes starting with the letter P) or four (if the size indicated by the letters LT). The first gives you extra strength and stability, and the second gives a greater sound comfort. The tread design provides low rolling resistance and minimum noise level.
EPREL column links to the European Product Database for Energy Labelling for the product specification listed.