L/S index:

85H RD

Diameter (mm):

588.0

Profieldiepte (mm):

7.7

L/S index:

83H RD

Diameter (mm):

570.0

Profieldiepte (mm):

7.6

L/S index:

88H RD

Diameter (mm):

602.0

Profieldiepte (mm):

7.8

L/S index:

86H RD

Diameter (mm):

584.0

Profieldiepte (mm):

7.7

L/S index:

88H

Diameter (mm):

616.0

Profieldiepte (mm):

7.9

L/S index:

90H RD

Diameter (mm):

596.0

Profieldiepte (mm):

7.8

L/S index:

82H

Diameter (mm):

578.0

Profieldiepte (mm):

7.8

L/S index:

88H RD

Diameter (mm):

609.0

Profieldiepte (mm):

7.7

L/S index:

81V

Diameter (mm):

591.0

Profieldiepte (mm):

7.7

L/S index:

88V

Diameter (mm):

621.0

Profieldiepte (mm):

7.8

L/S index:

88V RD

Diameter (mm):

603.0

Profieldiepte (mm):

7.8

L/S index:

86V RD

Diameter (mm):

585.0

Profieldiepte (mm):

7.8

L/S index:

91V

Diameter (mm):

635.0

Profieldiepte (mm):

7.9

L/S index:

88V

Diameter (mm):

615.0

Profieldiepte (mm):

7.9

L/S index:

85V

Diameter (mm):

595.0

Profieldiepte (mm):

7.9

L/S index:

86V RD

Diameter (mm):

577.0

Profieldiepte (mm):

7.9

L/S index:

94V

Diameter (mm):

647.0

Profieldiepte (mm):

8.0

L/S index:

95V RD

Diameter (mm):

627.0

Profieldiepte (mm):

8.0

L/S index:

87V RD

Diameter (mm):

610.0

Profieldiepte (mm):

7.8

L/S index:

88V RD

Diameter (mm):

602.0

Profieldiepte (mm):

7.9

L/S index:

91V

Diameter (mm):

632.0

Profieldiepte (mm):

8.0

L/S index:

91V RD

Diameter (mm):

612.0

Profieldiepte (mm):

8.0

L/S index:

87V RD

Diameter (mm):

590.0

Profieldiepte (mm):

7.5

L/S index:

98H

Diameter (mm):

686.0

Profieldiepte (mm):

8.1

L/S index:

95V

Diameter (mm):

664.0

Profieldiepte (mm):

8.1

L/S index:

88W RD

Diameter (mm):

616.0

Profieldiepte (mm):

7.5

L/S index:

94W

Diameter (mm):

668.0

Profieldiepte (mm):

7.6

L/S index:

95W RD

Diameter (mm):

648.0

Profieldiepte (mm):

7.6

L/S index:

91W RD

Diameter (mm):

626.0

Profieldiepte (mm):

7.6

L/S index:

98W RD

Diameter (mm):

658.0

Profieldiepte (mm):

7.7

L/S index:

94W RD

Diameter (mm):

634.0

Profieldiepte (mm):

7.7

L/S index:

97W RD

Diameter (mm):

644.0

Profieldiepte (mm):

7.8

L/S index:

95W RD

Diameter (mm):

659.0

Profieldiepte (mm):

7.7

L/S index:

92W RD

Diameter (mm):

637.0

Profieldiepte (mm):

7.7

L/S index:

101W RD

Diameter (mm):

693.0

Profieldiepte (mm):

7.8

L/S index:

95W RD

Diameter (mm):

645.0

Profieldiepte (mm):

7.8

L/S index:

100W RD

Diameter (mm):

677.0

Profieldiepte (mm):

7.9

L/S index:

97W RD

Diameter (mm):

653.0

Profieldiepte (mm):

7.9

L/S index:

94W RD

Diameter (mm):

635.0

Profieldiepte (mm):

8.0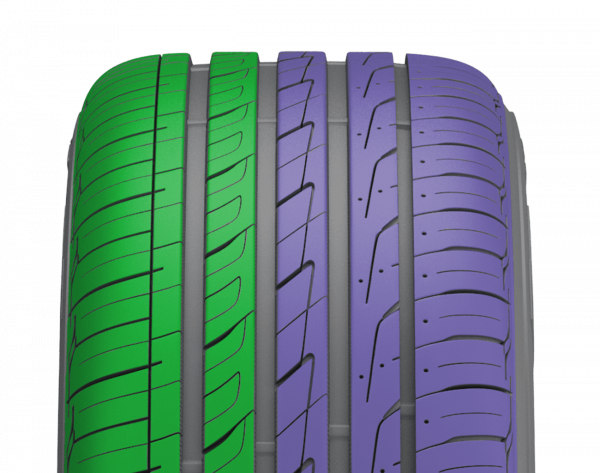 Asymmetric Tread Design
An asymmetric pattern provides more void area to resist aquaplaning and higher stiffness for better traction, handling and steering response.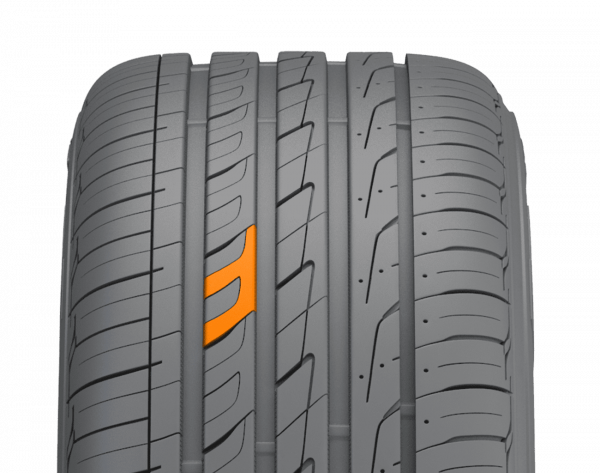 F-Blocks
An F-shaped tread block pattern with siped biting edges and high stiffness, offers means excellent wet and dry performance.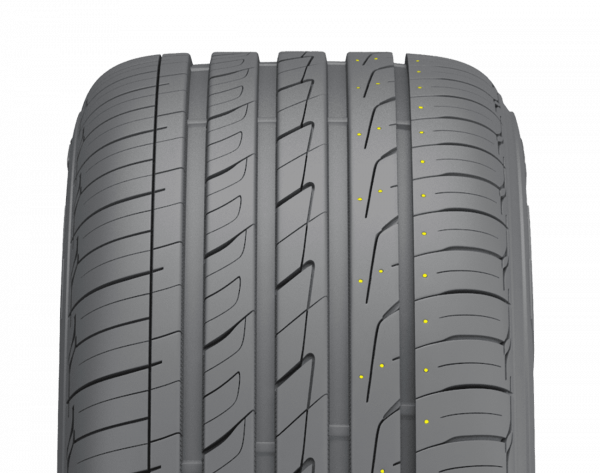 Pinholes
Pinholes in the outer shoulder reduce wear appearing during acceleration and braking.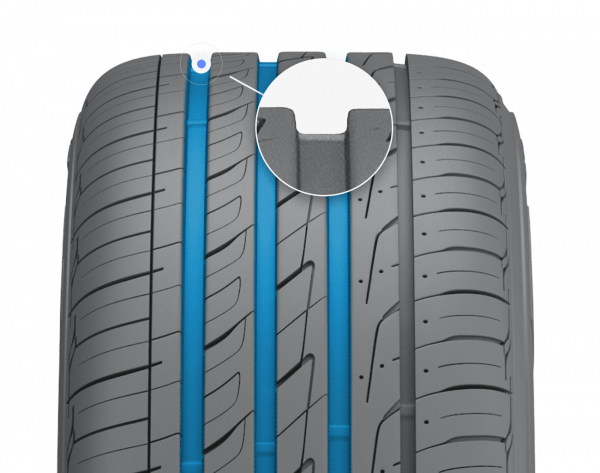 Round-edged Grooves
The edges of the main longitudinal grooves have a rounded shape to provide excellent water drainage and improved safety in wet conditions.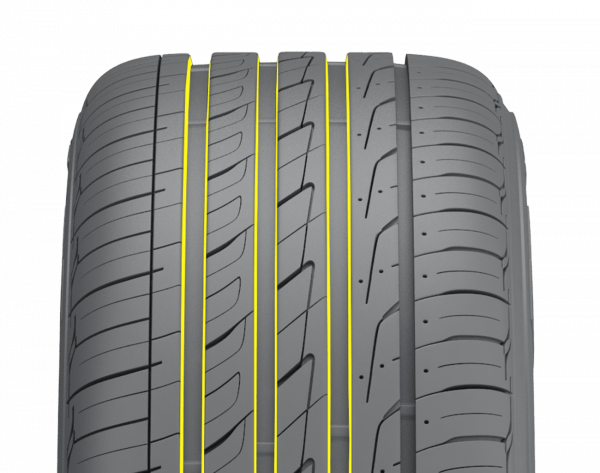 Quiet-Wall Technology
Serrated walls within the tread grooves reduce noise by disrupting airflow.
EPREL column links to the European Product Database for Energy Labelling for the product specification listed.