L/S index:

89V

Diameter (mm):

595.0

Profieldiepte (mm):

7.5

F

C

2

71 dB

L/S index:

86V

Diameter (mm):

577.0

Profieldiepte (mm):

7.5

F

E

2

71 dB

L/S index:

99H

Diameter (mm):

672.0

Profieldiepte (mm):

8.1

E

C

2

71 dB

L/S index:

96W

Diameter (mm):

652.0

Profieldiepte (mm):

8.1

F

C

2

71 dB

L/S index:

94W

Diameter (mm):

632.0

Profieldiepte (mm):

7.6

F

C

2

71 dB

L/S index:

99W RD

Diameter (mm):

664.0

Profieldiepte (mm):

8.2

E

E

2

71 dB

L/S index:

97Y

Diameter (mm):

642.0

Profieldiepte (mm):

7.7

F

C

2

71 dB

L/S index:

102W

Diameter (mm):

676.0

Profieldiepte (mm):

8.3

F

C

2

71 dB

L/S index:

99W

Diameter (mm):

654.0

Profieldiepte (mm):

7.8

E

E

2

71 dB

L/S index:

88W RD

Diameter (mm):

616.0

Profieldiepte (mm):

7.7

F

C

2

71 dB

L/S index:

98W RD

Diameter (mm):

668.0

Profieldiepte (mm):

7.7

E

C

2

71 dB

L/S index:

95W

Diameter (mm):

648.0

Profieldiepte (mm):

7.7

E

C

2

71 dB

L/S index:

91W

Diameter (mm):

626.0

Profieldiepte (mm):

7.8

F

C

2

71 dB

L/S index:

101W

Diameter (mm):

680.0

Profieldiepte (mm):

7.8

E

C

2

71 dB

L/S index:

98Y

Diameter (mm):

658.0

Profieldiepte (mm):

7.2

F

C

2

71 dB

L/S index:

94Y

Diameter (mm):

634.0

Profieldiepte (mm):

7.7

F

C

2

71 dB

L/S index:

103W

Diameter (mm):

690.0

Profieldiepte (mm):

7.9

E

E

2

71 dB

L/S index:

100Y

Diameter (mm):

668.0

Profieldiepte (mm):

7.7

F

C

2

71 dB

L/S index:

97Y

Diameter (mm):

644.0

Profieldiepte (mm):

7.7

F

E

2

71 dB

L/S index:

99W

Diameter (mm):

652.0

Profieldiepte (mm):

8.1

E

E

2

71 dB

L/S index:

95W

Diameter (mm):

628.0

Profieldiepte (mm):

8.1

E

C

2

71 dB

L/S index:

95Y

Diameter (mm):

659.0

Profieldiepte (mm):

7.7

F

C

2

71 dB

L/S index:

92Y

Diameter (mm):

637.0

Profieldiepte (mm):

7.7

F

C

2

71 dB

L/S index:

101Y RD

Diameter (mm):

693.0

Profieldiepte (mm):

7.7

F

C

2

71 dB

L/S index:

98W RD

Diameter (mm):

669.0

Profieldiepte (mm):

8.0

F

E

2

71 dB

L/S index:

95Y

Diameter (mm):

645.0

Profieldiepte (mm):

7.7

F

E

2

71 dB

L/S index:

104Y

Diameter (mm):

703.0

Profieldiepte (mm):

7.7

F

C

2

71 dB

L/S index:

100Y

Diameter (mm):

677.0

Profieldiepte (mm):

7.7

F

C

2

71 dB

L/S index:

97Y

Diameter (mm):

653.0

Profieldiepte (mm):

7.7

F

E

2

71 dB

L/S index:

92Y

Diameter (mm):

629.0

Profieldiepte (mm):

7.7

F

E

2

71 dB

L/S index:

94W

Diameter (mm):

635.0

Profieldiepte (mm):

8.2

F

E

2

71 dB

L/S index:

97W

Diameter (mm):

643.0

Profieldiepte (mm):

8.3

E

E

2

71 dB

L/S index:

91W

Diameter (mm):

647.0

Profieldiepte (mm):

8.0

F

E

2

71 dB

L/S index:

98W

Diameter (mm):

679.0

Profieldiepte (mm):

7.7

E

E

2

71 dB

L/S index:

93W RD

Diameter (mm):

655.0

Profieldiepte (mm):

8.0

F

E

2

71 dB

L/S index:

96W RD

Diameter (mm):

661.0

Profieldiepte (mm):

8.2

F

E

2

71 dB

L/S index:

93W RD

Diameter (mm):

643.0

Profieldiepte (mm):

8.0

F

C

2

71 dB

L/S index:

96W RD

Diameter (mm):

649.0

Profieldiepte (mm):

8.1

F

E

2

71 dB

L/S index:

98W RD

Diameter (mm):

655.0

Profieldiepte (mm):

8.2

F

E

1

72 dB

L/S index:

92W

Diameter (mm):

672.0

Profieldiepte (mm):

8.0

E

E

2

71 dB

L/S index:

95W

Diameter (mm):

680.0

Profieldiepte (mm):

8.1

E

E

2

71 dB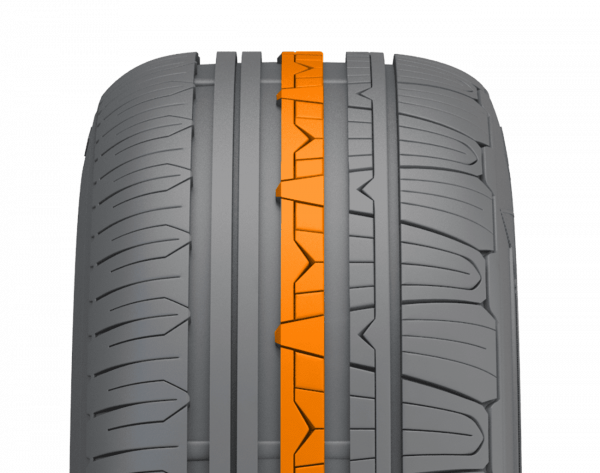 Wide Central Rib
A wide rib in the central part of the tread improves directional stability at high speed and contributes to a quick response to the steering.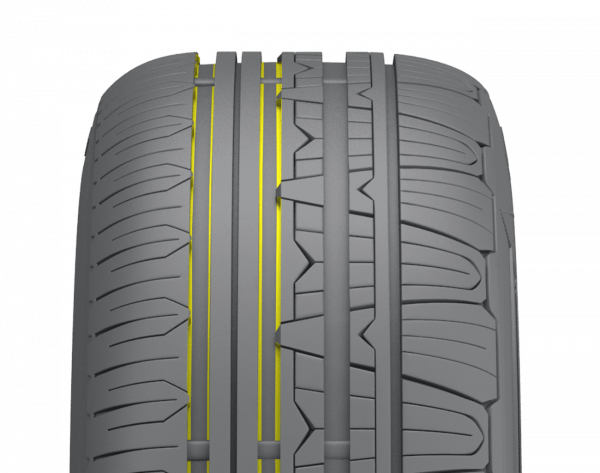 Sound Absorbing Wall
The walls of the grooves have a corrugated surface, which reduces high-frequency noise during movement.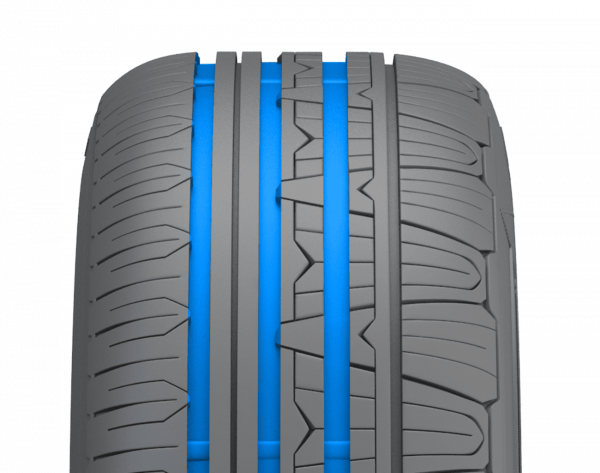 Three Wide Drainage Grooves
Improved drainage of water from the contact patch for improved wet performance.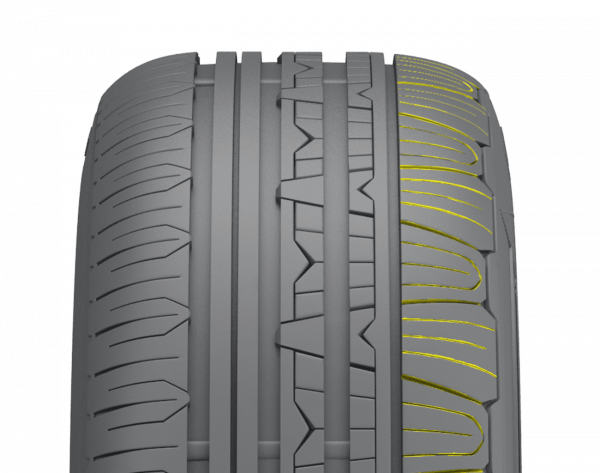 Alternating Tread Blocks
Noise from the tread occurs when vibrations are repeated at equal frequency.
EPREL column links to the European Product Database for Energy Labelling for the product specification listed.